A modern end-to-end solution for capturing, managing, and deploying legislation and other document-based policies across channels and processes.

---
Oracle Policy Automation (OPA) is a suite of software products for modeling and deploying business rules within enterprise applications.
OPA leverages the capabilities of Microsoft Word and Excel to create rules using phrases in plain natural language such as English, Chinese and French. The rule documents can be shared amongst business and information technology stakeholders, and commentary can be added into the documents without affecting the structure of the rules themselves.
Although OPA was originally developed for and sold to the public sector, it can be used in other industries such as banking, finance etc. and can be tailored to a wide range of policy implementation from approving credit applications or determining eligibility for assistance.
Advantages
Consistency across multiple channels (web, mobile, contact center and face to face, self service).
Detailed decision reporting to understand how decisions are reached.
Assessment on the impact of policy changes.
Reduced cost through integration with major platforms both legacy and modern systems.
Components
The main technology components of OPA(1) are:
Oracle Policy Modeling: the platform allows to transform multi-language source policy documents into executable rules models, using Microsoft Word and Excel.
Oracle Policy Automation: cross-platform runtime components for deploying policy models across your enterprise.
Oracle Policy Automation Connectors

for Siebel— seamlessly integrate policy models with Siebel, through workflows and UI.
for Oracle CRM on Demand— incorporate OPA interviews with Oracle CRM on Demand, for self-service and call center use.
for SAP Java — leverage SAP JCo to integrate policy models with ABAP code.
Deployment
The Oracle Policy Automation family can be deployed as:
OPA Cloud Service: a cloud service where it includes a full set of tools and integration options to automate and audit policies with Oracle Service Cloud, Oracle Sales Cloud or any other cloud or on-premise application. or as a private and managed cloud solution.
OPA: the private and managed cloud solution for modeling and deploying policies throughout the policy lifecycle.
The later provides flexible deployment and integration options, and includes:
Where can Oracle Policy Automation help?
---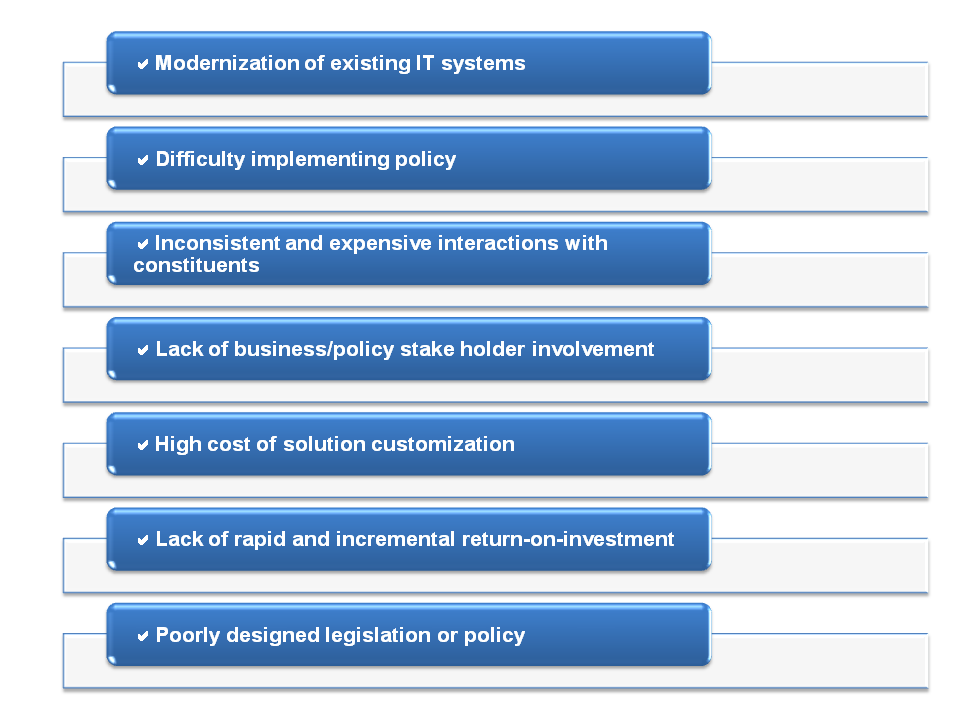 Oracle white paper: Is Oracle Policy Automation a Good Fit for My Business?
When is Oracle Policy Automation Not a Good Fit?
---
Examples
---
Examples of well known bodies that use OPA as part of their operations is UK Revenue and Custom's agency (for their Employment Status Indicator assessment tool) and UK government's online portal for businesses that uses OPA for over 60 interactive tools. Oracle Policy Automation continues to be available as a standalone offering and an integrated rules solution for Siebel.
Example of dynamic interactive self service interview used by Australian Government Department of Immigration for Visa applications.
Example of Oracle Web Determinations (OWD) used to deliver predefined screen flows for US Internal Revenue Service to determine applicants eligibility for Tax Filling.
---
Our offering
We have experience providing services at both areas of project life-cycle; pre-sales and implementation.
Pre-Implementation

OPA demonstrations

, on-site or via web-conferences explaining features and user cases.

Proofs of concept

— small exercises consisting in the building of a small OPA rulebase based on the customer's industry.

Prototypes

— more advanced simulation of an OPA rulebase deployed in a way that would match the customer's use case scenario.
Consulting
OPA implementation.
Rulebase Architecture based on Oracle's best practice guidelines.
Rules Development / Re-engineering.
Screen flow design.
End-to-end Testing.
Rule Quality Assurance.
Migration (e.g. : from version 10.1 to 10.4).
Technical Integration.
Oracle Siebel Integration.
Team Extension / Supervision / Coaching / Guidance to junior resources.
VCS consultants hold the accreditation of Oracle Certified OPA Implementation Specialists.